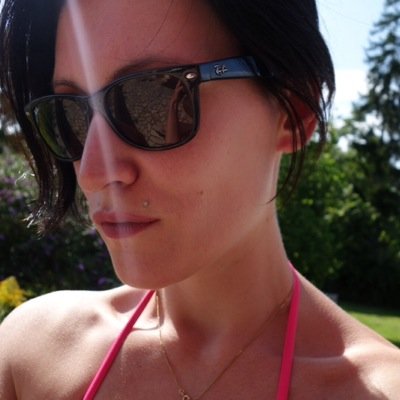 Ovidie is a French director, writer and former performer. Her films are largely story-driven features which explore a diverse array sexual relationships, often with a dry sense of humour. Her work features a lot of dialogue (all in French) and multiple points of view. Histoires de Sexes was notable for offering viewers male and female takes on a single situation. The sex scenes in her films are explicit and sometimes quite short; enough information is given to get an idea of the moment and move the story forward. She doesn't follow standard porn rules with regard to scene length, or what kind of sex the performers should have. Often they are able to choose what will occur in the scene. Ovidie made many of her films for FrenchLover TV, part of the Canal cable channel.
Bio
Ovidie was originally an anti-porn feminist. In 1999 she decided to get into porn acting to experience it first hand and to get empathy for the (allegedly) oppressed actresses. She discovered that her fellow performers felt empowered by their work and weren't oppressed at all. Ovidie went on to embrace making porn, albeit with a distinctly feminist outlook.
Ovidie has a degree in philosophy and is also an author, having penned nine books. She writes regularly for Metro News in France.
Find out more from Ovidie via her official Twitter account.
Filmography
Ba Le Baiser (The Kiss) (2015)
Pulsion (2014)
Infidelity (2012)
Histoires de sexes (English Title: Sex Stories) (2009)
Sex Stories (II)
Point G
Concubines
Point Cul
Extreme Sex Manual
Lilith
Orgy in Black