Promo for BrightDesire.com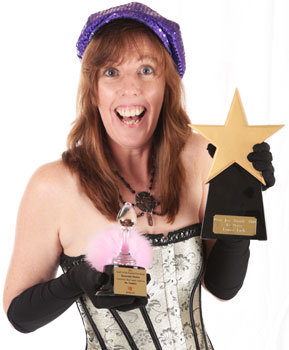 Female porn director Ms. Naughty (also known as Louise Lush) creates erotic films that focus on connection and intimacy. She often works with real-life couples in order to capture the chemistry and emotion that is typically present when people who know each other have sex. She also makes erotic short films that can be humorous, experimental or simply arousing. Her work also includes small documentaries and documentary-style explicit scenes that explore the dynamics of relationships.
Ms. Naughty began working in the adult industry online in 2000, originally making small erotic sites aimed at straight women. In 2003 she has jointly created ForTheGirls.com, one of the first adult sites for women. She taught herself filmmaking in 2008. Her site BrightDesire.com is her main focus and it features all of her films.
The erotic films of Ms. Naughty's have been screened at a wide selection of film festivals including The Berlin Porn Film Festival, Cinekink, East Bay Briefs SF, The British Fetish Film Festival, Popporn Brazil, Muestra Marrana Mexico, Goodvibes Quickies, The Perverotic Queer Film Festival and the Sexy International Film Festival.
In April 2017 Ms Naughty was named Indie Porn Icon at the Toronto International Porn Festival (formerly the Feminist Porn Awards). She also received an "Oyster" award at the PorYes European Feminist Porn Awards in October 2017.
Her films have won several awards at festivals over the past few years. "See Me" won Best Sex Positive Film at SECS Fest 2017. "Trinity won "Best Orgasm" at East Bay Express Briefs and an Honorable Mention at Cinekink in 2017. "Hand Jobs" won Best Cinematography at EBX  Briefs in 2016.  Her film "Dear Jiz" won Best Experimental Short at the 2014 Cinekink NY festival and "Tease" received an Honorable Mention the next year. She has also won 4 Feminist Porn Awards. In 2015 Bright Desire was an Honored Website and "Instructed" won Best BDSM Scene."Connections" and "Something Better: Performers Talk About Feminism And Porn" won Honorable Mentions in 2013 and 2014 respectively.
The Feminist Porn Book, released in 2013, has a chapter by Ms. Naughty about her career making online porn and "porn for women". She spoke on that topic at the Feminist Porn Conference in Toronto in April 2013 (you can find a video of the presentation is here). At the 2014 Feminist Porn Conference she spoke on two panels: Feminist Porn: What It Is, What It Isn't and Why It Matters and Pornographers Without Borders and screened several of her films. Her summary of that conference appeared in the September 2015 issue of the academic journal Porn Studies.
She has a chapter in Jiz Lee's book Coming Out Like A Porn Star, discussing the stigma surrounding working in porn.
She also has had her erotic fiction published in Best Women's Erotica 2009 and 2012 (the latter under the name Louise Lush).
Her work is discussed in Anne Sabo's After Pornified: How Women Are Transforming Pornography and Why It Really Matters, Helen Vnuk's Snatched: Sex and Censorship in Australia, and Audacia Ray's Naked on the Internet: Hookups, Downloads and Cashing In On Internet Sexploration. Her work has also been referenced by numerous academics in their papers, including Professor Alan McKee of UTS Sydney, Associate Professor Lyn Comella of the University of Nevada and Dr. Zahra Stardust. Her work is regularly recommended by sex therapists such as Cyndi Darnell.
Prior to her erotic career Ms. Naughty was a freelance journalist, writing regularly for Australian Women's Forum. She was also a librarian for a major Australian media company.
To support the work of Ms. Naughty, please visit Bright Desire.
Filmography
The Fantasy Project (2014)
Short Films:

That's What I Like (2009) – Director, Editor
Paddling The Pink Canoe (2009) – Director, Actor, Editor, Writer
Fucking is the Only Prayer (2010) – Director, Editor
The Thought Of Her (short) (2011) – Director, Editor, Writer
I.M. In Love (2012) – Director, Editor, Writer
Kaleidogasm (2012) – Director, Editor
Kaleidogasm 2 (2013) – Director, Editor
Dear Jiz (2013) – Director, Editor
Fist of the Spider Woman (2013) – Director, Editor
An Open Letter… (2013) – Director, Editor
What He Left Behind… (2014) – Director, Editor
Transported… (2014) – Director, Editor
Tease… (2014) – Director, Editor
Something Better: Performers Talk About Feminism And Porn (2014) – Director, Editor
Immunized With A Gramophone Needle (2014) – Director, Editor
Instructed (2014) – Director, Editor
Hand Jobs (2015) – Director, Editor
Taste (2015) – Director, Editor
Self/ies (2015) – Director, Editor
Perversion for (Feminist Fun) and Profit (2015) – Director, Editor
Scarlet Woman (2015) – Director, Editor
Ryan James: Single Handed (2015) – Director, Editor
Immersed (2016) – Director, Editor
Since You Asked So Nicely – Director, Editor
See Me (2016) – Director, Editor
Trinity (2017) – Director, Editor
Devourable (2017) – Director, Editor
Yes Campaign (2017) – Director, Editor
Oral Exam (2018) – Director, Editor
I Am Lucie Bee (2018) – Director, Editor
Linger (2018) – Director, Editor
Scenes and Shorts for BrightDesire.com
Leah and Mal, Aeryn and Theo, Shin Kou's Fantasy, The Best Fantasies, Phone Sex, Wanting You, Vince, Theo, Jes, Coming Home, Sundae and Andrew, If You Were Here, Gratified Grateful, Jade and Tommy, Mon Cheri, Your Marks On My Skin, The Boss Is Watching, Fame Fantasy, Yes Sir, Danse Erotique, Molly and Rael, Tactile, Lazy Sunday, Fiona and Vincent, Ryan James: Single Handed, Kim and Jay: 24/7, Chase: Shadows, Lucie and Lucas Bedsports, The Male Gaze in Porn (With Commentary By Doge), Lather, Face to Face, Exhibition, The Birthday Wish, Immersed, It's Complicated, Summer and Dean, Since You Asked So Nicely, Devourable, Ophelia and Woody, See Me, You're So Good At Me, Amelie and James, See You Next Tuesday, Jiz and Bishop: The Crush, Trinity: Extended, Lenore and Heartsucker: Home, Seven and Nine: Held, Theo and Candy: Photoplay, Michelle and Marina: Likeness, Pandora and Parker: Reunion, Lilith and Dante, Yes! Yes! Yes!, Oral Exam, Angel and Brendan, BeeBee and Mac, Lucie Bee Solo, Shelley and Richard

Various Berlin Film Festival and Feminist Porn Awards mini docos
Awards
"Yes Campaign", Best Advocacy Short, Cinekink New York 2018
"Oral Exam", Sexiest International Short, Toronto International Porn Festival 2018
"Trinity" Best Orgasm and Most Likely To Make You Want To Fuck at EBX Briefs 2017
"See Me" Best Sex Positive Film at SECS Fest 2017
"See Me" Best Political Film at Pop Porn Brazil 2017
"Immersed" Best Artistic Film at Pop Porn Brazil 2017
"Hand Jobs" Best Cinematography, East Bay Express Briefs, 2016
Bright Desire, Honoured Website, Feminist Porn Awards, 2015
"Instructed", Best BDSM Scene, Feminist Porn Awards, 2015
"Tease", Honorable Mention, Cinekink NY, 2015
"Dear Jiz", Best Experimental Short, Cinekink NY, 2014
"Something Better", Honorarable Mention, Feminist Porn Awards, 2014
"Connections", Honorarable Mention, Feminist Porn Awards, 2013
"That's What I Like", Petra Joy Award For Best New Filmmaker, 2009
Nominations
Best Specialty Website – Female Directed, XBiz Awards 2018
Best Website – For Women, XBiz Awards 2017
Best Alternative Website, AVN Awards, 2015, 2016
Best Alternative Website, XBiz Awards 2015
Best Website – For Women, X Biz Awards 2016
Various Feminist Porn Award Nominations 2010-2015
Festival Screenings (not a full list)

Berlin Porn Film Festival 2009/11/12/13/15/16/17/18
Cinekink New York 2010/11/12/13/14/16/17/18
East Bay Briefs 2014/15/16/17/18
Glasgow Short Film Festival 2017
London Porn Film Festival 2017/18
Porny Days Zurich 2017
Toronto International Porn Festival 2017/18
Seattle Erotic Cinema Society (SECS) Festival 2017
Seattle Transgender Film Festival 2017
Pop Porn Festival Brazil 2016/17/18
Failed Films SF 2016/17/18
What The Fuck Festival Paris 2016
Muestra Marrana, Mexico 2015
Xposed International Film Festival Berlin 2015
Holy Fuck Film Festival Amsterdam 2015
Le Fete Du Slip Switzerland 2015/18
British Fetish Film Festival 2015
Pornotopia Albuquerque 2015
Tilde Transgender Film Festival 2014
Perv Queerotic Film Festival Sydney 2013
Good Vibes Quickies 2012
Painted Lips and Lolly Licks Festival 2011/14
Hard Liquor and Porn Festival 2012
Sexy International Film Festival Melbourne, Paris and Los Angeles 2009/10,