Jacky St. James is a US-based female director who has primarily worked with larger LA porn studios. Her films are story-based, high budget productions an emphasis on strong female protagonists. Her sex scenes are a mix of new techniques and more traditional porn styles. She describes herself as a sex-positive feminist.
Bio
Jacky St. James has a film-focused arts degree and she has previously worked as an actress and in the online advertising industry. In 2010 she submitted a script to the New Sensations studio for a romance film competition. Her script Dear Abby won and also went on to win Best Screenplay at the 2012 AVN awards. After success at writing scripts she moved behind the camera and began to direct.
IMDB currently lists 45 writing credits and 46 directing credits for Jacky. Though she got her start with romance-based films she has since moved onto making taboo relationship/fauxcest style films for Digital Sin.
In 2016 she won the XBiz award for Director of the Year – Body of Work. She has also been nominated for 25 AVN and XBiz awards since the beginning of her career and has won 11 awards.
You can see Jacky's romance films at NS Romance.
Or check out:
The Submission Of Emma Marx (2013)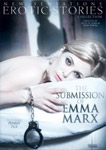 The blurb: By all accounts, Emma Marx is a beautiful, confident, well-adjusted woman. Unfortunately, when it comes to love and romance, she has found all of her previous relationships to be a bit routine and mundane. Suddenly, that is all changed by a chance encounter with a handsome and mysterious man. He introduces her to a world she had only dared to fantasize of a world of erotic sex, role-play and BDSM. She questions how a man can so easily strip away her inhibitions and replace them with lust and desire. How is it that he has such control over her? Why does she like it so much? Her journey of self-discovery and sexual awakening, however, may come with a price. What happens when the greatest love you've ever known forces you to face your greatest obstacle – yourself?
Starring: Penny Pax, Kylie Reid, Richie Calhoun
Available From
Gamelink: DVD
Filmography
The Submission of Emma Marx: Exposed (Video) 2015
Seduction of a Young Girl (Video) 2015
Restraint 2 (Video) 2015
A Mother Daughter Thing 3 (Video) 2015
My Hotwife's First Interracial (Video) 2015
The Swing Life (Video) 2015
Hall Pass: Cheating with Permission (Video) 2015
Boss Lady (Video) 2015
How to Train a Hotwife (Video) 2015
Almost Relatives (Video) 2015
Sisterly Love 2 (Video) 2015
Spicing Up the Marriage (Video) 2015
The Submission of Emma Marx: Boundaries (Video) 2015
A Hotwife Blindfolded (Video) 2015
My Sister/My Lover (Video) 2015
Restraint (Video) 2014
My Family's Creampie Recipe (Video) 2014
My Hotwife's Lover (Video) 2014
A Mother Daughter Thing 2 (Video) 2014
Sex Is All Relatives (Video)  2014
Boss Fantasies (Video)  2014
Kinky Wedding Day (Video) 2014
I Love My Hotwife (Video) 2014
Sisterly Love (Video) 2014
Second Chances (Video) 2014
A Mother Daughter Thing (Video) 2014
Rekindling the Flame (Video) 2014
All in the Family (Video) 2014
Love Is in the Air (Video)  2014
Father's Day (Video) 2014
Happy Anniversary (Video) 2014
Mother Knows Best (Video) 2014
Our Father (Video) 2014
The Sexual Liberation of Anna Lee (Video) 2014
Keep It in the Family (Video) 2013
Incestuous (Video) 2013
Having Sex with the In-Laws (Video) 2013
The Family That Lays Together (Video) 2013
Family Business (Video) 2013
The Temptation of Eve (Video) 2013
The Submission of Emma Marx (Video) 2012
Torn (Video) 2012
Power & Control (Video)