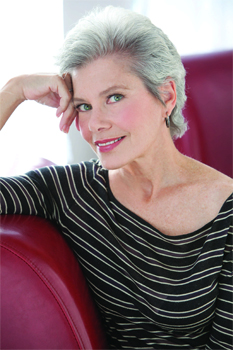 Candida Royalle is considered to be the pioneer of "porn for couples" and she was one of the first film directors to make porn that acknowledged women as an audience. She started in the adult industry as a performer in the late 70s but moved behind the camera with her first film "Femme" in 1984. That groundbreaking film gave priority to women's fantasies and pleasure and also ruffled feathers due to Candida's determination not to use facial ejaculation shots.
Candida went on to make 17 erotic films (she preferred the term "erotica" to porn because she felt the "p word" alienated women). Her movies were often story-based, with high quality cinematography and good acting. Some of her films, such as Revelations, canvassed political topics like censorship. Others, like Under The Covers, were played for laughs and lampooned aspects of the porn industry.
Candida created a space for other women to create their own erotic visions with her Guest Director Series, featuring Annie Sprinkle, Veronica Hart, Veronica Vera and Gloria Leonard. The five women had previously "Club 90" a porn star support group and they are widely recognized as pioneers of the feminist porn movement. Femme Productions has also provided a platform to other female directors such as Abiola Abrams (pseudonym Venus Hottentot) and Petra Joy.
Candida also created a line of sex toys called Natural Contours, one of the first vibrators to eschew the standard phallic shape. She wrote "How To Tell A Naked Man What To Do"  and was also a sought-after public speaker. She was member of the American Association of Sex Educators, Counselors and Therapists, (AASECT) and a founding Board member of Feminists for Free Expression (FFE).
Unfortunately, Candida Royalle passed away in September 2015 after a long battle with cancer and she is much missed by the feminist porn community. Her work is still available at many online adult stores.
You'll find all of Candida's films at Pink Label.
You can also see the biographical film made about her at Pink Label: It's called Candice.
Filmography
Femme (1984)
Christine's Secret (1984)
Urban Heat (1984)
Three Daughters (1986)
Rites Of Passion (1987)
Sensual Escape (1988)
Taste of Ambrosia (1988)
Revelations (1993)
My Surrender (1996)
Bridal Shower (1997)
The Gift (1997)
Eyes Of Desire 1 (1998)
One Size Fits All (1998)
Eyes of Desire 2: Taking It to the Limit (1999)
Candida Royalle's Stud Hunters (2002)
Under the Covers (2007)
Awards
XRCO Hall of Fame 1997
PorYes European Feminist Porn Award 2009