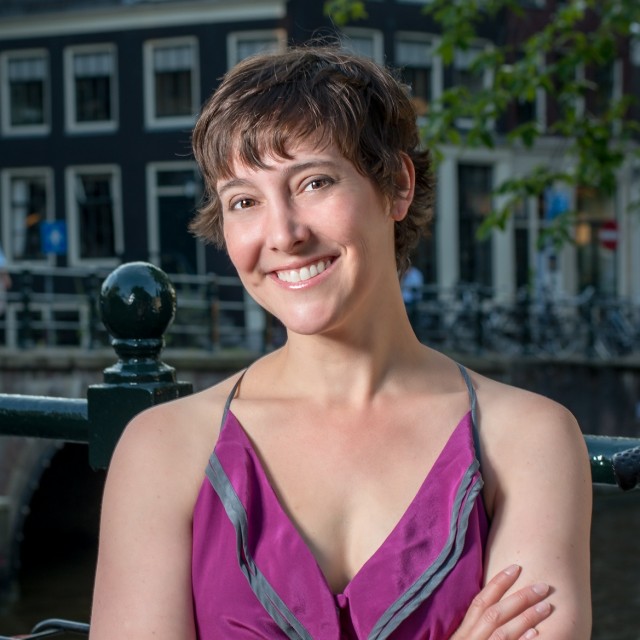 Jennifer Lyon Bell is a US-born filmmaker who lives and creates erotic film in the Netherlands. She runs Blue Artichoke Films, a studio with a slogan of "Erotic film for people who like film."
Her films can be described as high-end, emotionally engaging explorations of sex. She seeks to set her filmed erotic encounters within the context of relationships, though not necessarily monogamous or long-term ones. For Jennifer, sex occurs because two people connect in some way and she seeks to portray the essence of that interaction. This doesn't mean she avoids explicit sex, though. Her films show real sex and are intended to arouse.
Jennifer's filmmaking style is professional, artistic but also relatively simple, with a focus on faces. She is happy to spend time on building up a scene and showing how sex happens, sometimes in real time. The cinematography is high quality and she spends time on good lighting, sound editing and a suitable soundtrack.
Jennifer's work embraces the idea of "flexible sexuality" and doesn't assume an automatic heterosexual or female audience, though her work is very popular with women.
She takes pride in ethical production and takes her casting work very seriously, meeting with performers beforehand to ensure they are comfortable with their roles and also to make sure there is chemistry between partners.
Jennifer teaches "From Film To Fantasy: Design Your Own Porn" workshops at pop events, film academies, and film festivals. Her films are regularly invited to screen in academic programs and at sexology conferences and events. She was the sex columnist for the Amsterdam Weekly and has written about sex and cinema in various art publications as well as in the Porn Studies Journal.
Her film work is lauded in books including "After Pornified: How Women Are Transforming Pornography & Why It Really Matters"  (Anne Sabo) and "McSex: The Pornofication of Our Society." (Myrthe Hilkens).
She enjoys evangelizing for interesting and sexy cinema, and so curates explicit film programs for museums and film festivals. She was the co-curator of the Stag Film exhibition at the Museum of Sex in New York (MOSEX), which was their longest-running exhibition and featured on the TV show "Law & Order" as well as the Independent Film Channel's movie "Indie Sex". At MOSEX she also directed and produced original documentaries.
Jennifer was awarded a PorYes European Feminist Porn Award in 2015 for her overall work.
Visit Jennifer Lyon Bell's website to find out more: Blue Artichoke Films
Filmography
Silver Shoes
Skin. Like. Sun.
Matinee
Headshot
Awards and Film Screenings
PorYes European Feminist Porn Award (lifetime), 2015
Silver Shoes –  Winner, Movie of the Year, Feminist Porn Awards 2014
Skin. Like. Sun.  – Winner, Best Direction, Feminist Porn Awards 2010
Matinée  – Honorable Mention, Feminist Porn Awards 2009
Matinee  – Five Best Sex Films For Women, Cosmopolitan magazine 2009
Headshot  – Winner "Best Short Erotic Film" award, Atlanta Underground Film Festival 2009
Nominations
Silver Shoes – Best Foreign Film, XBiz Awards 2016
Silver Shoes – Sex & Media Prize 2015, NVVS Dutch National Sexology Board
Headshot – Destricted/Larry Clark contest, London Short Film Festival, Institute of Contemporary Arts (ICA) 2007
Film Screenings
Cannes Short Film Corner 2006
London Short Film Festival, Institute of Contemporary Arts (ICA) 2014, 2007
Feminist Porn Awards, Toronto 2014, 2009, 2008
European Feminist Porn Awards, Berlin 2014, 2009
La Fete Du Slip, Switzerland 2015
Porn FilmFestival Berlin 2010, 2009, 2006
CineKink/NYC, 2015, 2010, 2009
Holy Fuck Film Festival, Amsterdam 2015
Schwules Museum Berlin, 2015
Zomergasten, VPRO, Dutch television, 2015
Feminist Porn Conference, 2014
Mexico City Feminist Porn Festival (Cine y Sexo: La Mirada Femenina) 2012
Bike Smut Film Festival, international 2012
Get A Room! Film Screening series 2011
IXFF San Francisco Indie Erotic Film Festival 2010
Charming Filth, Amsterdam 2010
Women Inc. Erotic Film Series 2010
Rated X Amsterdam Alternative Erotica Festival 2010
Queer Lisboa Lisbon Gay & Lesbian Film Festival, Portugal 2010
Sexy International Film Festival Paris 2010
CinErotic Film Festival (Atlanta, GA) 2010
Stoutste Dromen Festival, Antwerp Belgium 2009
Strasbourg International Film Festival, France 2009
SIFF Sexy International Film Festival Melbourne 2009
Stout(St)e Dromen Festival Antwerp, Belgium, 2009
Pornotopia Erotic Film Festival 2009
Atlanta Underground Film Festival 2009
Sydney Underground Film Festival 200
Britspotting Festival,  Berlin 2007
Bangfilmes Brazilia, Brazil 2007
Tokyo Revolution and Sexual Revolution Festival 2007
Festival Internationale du Court Metrage 2007
Portobello Film Festival, London 2007