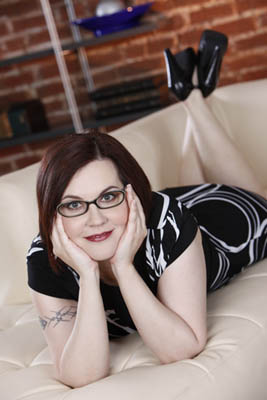 Tristan Taormino is a female porn director who is perhaps best known for her educational porn films created with Vivid and Adam and Eve. Her first porn film (as both director and performer) was The Ultimate Guide To Anal Sex For Women, based on her book of the same name. In 2006 she created the Chemistry series, pioneering a gonzo-style genre that focused on the performers choice of partner and encouraged them to have sex in whatever way best gave them pleasure. Her Expert Guides, made for Vivid, mix sex education with explicit sex scenes and cover oral sex, anal, kink, female orgasm, pegging and the G-spot.
Bio: Tristan Taormino is an experienced filmmaker, author, sex educator, columnist, media pundit and performer. She has created 25 adult films and runs her own production company, Smart Ass Productions. She has written 8 books about sex, including guides to anal sex, polyamory and BDSM. She co-edited The Feminist Porn Book in 2013 and she also instigated Feminist Porn Conference, held in Toronto in 2013 and 2014. Tristan is best known as being the "anal expert" – offering advice about anal sex and pleasure – which she does regularly on her Pucker Up site.
Find out more about Tristan at her Pucker Up site
You'll find Tristan's films at Gamelink.
Filmography
Tristan Taormino's Guide to Bondage for Couples 2013
Tristan Taormino's Guide to Kinky Sex for Couples 2012
Expert Guide to Pegging 2011
Rough Sex 3: Adrianna's Dangerous Mind  2010
Rough Sex #2 2010
The Expert Guide to Female Orgasms  2009
Expert Guide to Anal Pleasure for Men  2009
Expert Guide to Advanced Fellatio  2009
Expert Guide to Sensual Bondage 2009
Rough Sex 2008
Chemistry 4: The Orgy Edition 2008
Expert Guide to Hand Jobs for Men and Women 2008
Expert Guide to Threesomes 2007
Expert Guide to Anal Sex 2007
Chemistry 3 2007
Expert Guide to Oral Sex, Part 1: Cunnilingus 2007
Expert Guide to Oral Sex, Part 2: Fellatio 2007
Expert Guide to the G-Spot 2006
Chemistry Vol. 1 2006
Chemistry 2  2006
House of Ass 2000
The Ultimate Guide to Anal Sex for Women 2 1999
Ultimate Guide to Anal Sex for Women 1999