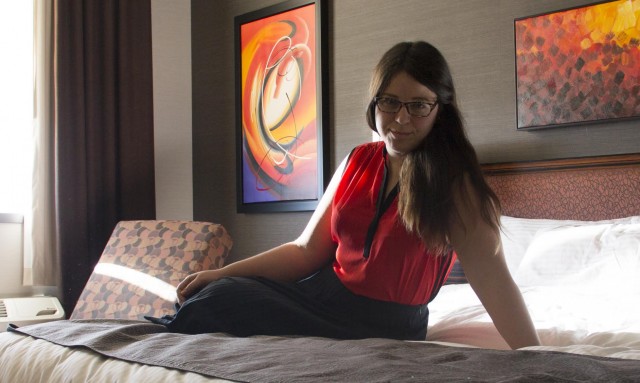 Kate Sinclaire is an independent pornographer based in Winnipeg (it's a city in the middle of Canada!).
Kate's films feature mostly queer and solo performers, with an indie/alt feel. Her work celebrates diverse bodies and sexuality.
She has been making porn since 2008 as cherrystems.com, and made the transition from photo to video with Ciné Sinclaire (cinesinclaire.com) in January of 2016. Ciné Sinclaire hosts a clip store of curated guest content as well as its own original production library, and is rallying Canadian smut makers to work together to create porn that empowers, delights, and excites. Her work has been featured at the Queer Porn Film Festival in Brooklyn, NY. Kate has spoken on various topics at Playground Conference (Toronto), Catalyst Con (Chicago), the University of Manitoba, Genderfest Winnipeg, and more.
She holds a degree from the University of Manitoba in sociology and philosophy, and generally enjoys being outdoors, with friends, perhaps making porn. The remainder of her time is spent being the sales lady for Fuze, a Canadian silicone toy manufacturer.
Filmography (Selected)

Closer (2015) – starring Jiz Lee and Andre Shakti. Queer Porn Film Festival.
Solo (2015) – starring Velvet. Queer Porn Film Festival.
Headphones (2015)- starring Caroline Fox. Queer Porn Film Festival.
Femmes (2016) – starring Samantha Leigh and Jessica Sinclaire.
Please (2016) – starring Tobi Hill-Meyer and Taylor J Mace.
Drip (2016) – starring Caroline Fox and Keelie Bradshaw, co-produced with Courtney Trouble
Crush (2018)
Drip (2018)