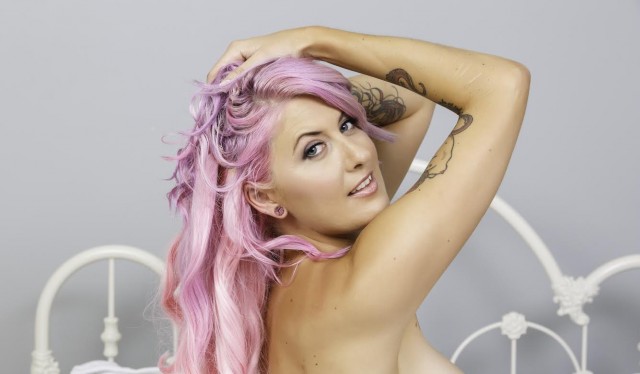 Zahra Stardust is an award-winning porn star and director, whose films feature a distinct mix of sex, art and politics. Her work vacillates between playful engagement with stereotype to raw accounts of stigma and burnout, blending boundaries between work and pleasure.
In Fuck Dolls, performers enjoy homoerotic Ken dolls and explore Barbie's queer potential, using her as a dildo in a strap-on harness. In Femme Facial they re-orient the traditional male cum shot in a femme-on-femme squirting scene. The One on the Bottom features an intimate fisting scene in response to comments on current affairs program QnA that 'the one on the bottom' is oppressed in gay porn. Beautiful Monotony, an endurance art piece featuring back to back lap dances in fast forward interspersed with studying, eating and changing tampons, emphasises both the pleasure and work of sexual labour. Zahra's protest film with Angela White made history as the first two political candidates to film a porn scene together, and her scene with Madison Missina in Blonde features all safer sex to promote the #safesexissexy campaign.
Zahra collaborates with fellow performers to put their shared desires and creative visions on screen. She is interested in intimacy, provocation, body fluids, spillage and the abject out of place.
Check out her new site Intimate X which features a lot of her porn.
The Explicit Diary of Zahra Stardust is her personal site.

Jury
Berlin Porn Film Festival, short film competition, 2015


Awards

Honorable Mention, Feminist Porn Awards, Toronto, 2015
Feminist Porn Awards, Heartthrob of the Year, 2014
Adult Industry Awards, Best Porn Actress, 2014
Eros Shine Awards, Best Adult Star, 2012


Film Screenings
Cinekink, New York, 2014, 2015, 2016
Fetish Film Festival, Copenhagen, 2015, 2016
Feeding Dick Savvy, Sydney, 2016
Porn Film Festival, Berlin, 2013, 2014, 2015
Only Porn Festival, Lyon, 2015
Cineffable Lesbian and Feminist Film Festival, Paris, 2015
Xposed Film Festival, Berlin, 2015
Holy Fuck Film Festival, Amsterdam, 2015
Gala Vanting's Cinematic Intimacies: Church of Carnality, 2015
Sex Worker Film Festival, Copenhagen, 2015
Sex Worker Arts and Film Festival, San Francisco, 2015
Perv Queerotic Film Festival, 2013, 2014
Get a Room, Amsterdam Pride, 2014
Pornotopia, Albuquerque, 2014
Seen and Heard Film Festival, 2014
Public Provocative Porn, Toronto, 2014
Muestro Marrana, Barcelona, 2014
La Fete du Slip, Lausanne, 2013
Filmography

Cream (2015) (directed by Zahra Stardust and Dick Savvy)
Fuck Dolls (2014) (directed by Zahra Stardust and Emerald)
Femme Facial (2014) (directed by Zahra Stardust and Courtney Trouble)
Heart Throb Marathon (2014) (directed by Zahra Stardust, James Darling and Wolf Hudson)
Fisting Foot Fetishists (2014) (directed by Zahra Stardust and April Flores)
Spanked Not Silenced (2014) (directed by Zahra Stardust, Pandora Blake and Ms Naughty)
An Open Letter to my Lovers Friends and Mentors (2013) (directed by Zahra Stardust and Bright Desire)
The One on the Bottom (directed by Zahra Stardust and Mister T)
PreOccupation (directed by Zahra Stardust and Sensate Films)
Beautiful Monotony (2013) (directed by Zahra Stardust)
Tales of an Unrepentant Wench (2013) (directed by Zahra Stardust)
Officer Naughty Gets Fucked (2013) (directed by Zahra Stardust)
Stiletto Heel Worship (2012) (directed by Zahra Stardust and Aeryn Walker)
Bad Kitty's Got Milk (2012) (directed by Zahra Stardust and Aeryn Walker)
Fucking Miley White (directed by Zahra Stardust and Miley White)
Performances for other directors
The Bedroom (2016) (produced/directed by Anna Brownfield)
Blonde (2014) (produced by Madison Missina and Pop Porn3D)
Music Box (2014) (directed by Anna Brownfield, produced by Morgana Muses)
Feminist Reading Time (2013) (produced by Liandra Dahl)
Inside Jiz Lee (2013) (produced by Liandra Dahl)
Lap Dancing Liandra (2012) (produced by Liandra Dahl)