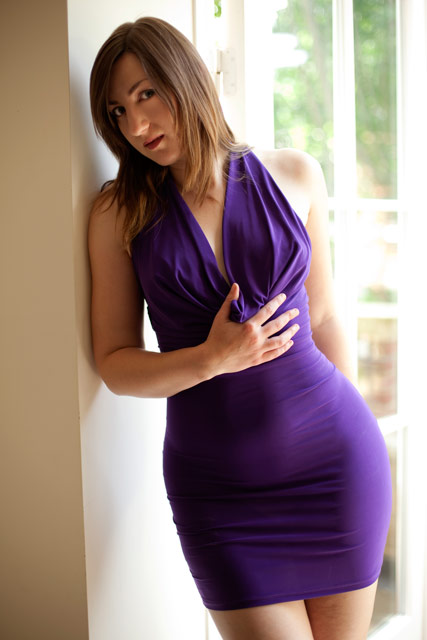 Pandora Blake is a multi award winning female porn director, performer and producer based in the UK. Her films are story-based and theatrical, exploring themes of spanking, BDSM and fetish, queer sexuality and female kinky fantasy.
A lifelong spanking enthusiast, Pandora's work draws heavily on her own sexual fantasies or experiences – she has described her site Dreams of Spanking as an "erotic autobiography". Her films are romantic and cinematic, exploring power relationships, the psychology of domination and submission, and featuring believable characters with complex motivations. She loves period dramas, and Dreams of Spanking is characterised by historical costumes, decadent locations and stories based in classic English settings such as stately homes, boarding schools and riding stables. This aesthetic is juxtaposed by more modern, realistic scenarios, and storylines playing off the tropes of genre fiction such as sci-fi, fantasy and horror, or satirising popular films and TV. She is a self-proclaimed nerd who designs and codes her own websites; she also appears in many of her own films herself as top, bottom or switch.
As a feminist porn director Pandora prefers shoot real couples, friends and lovers where possible. Her work seeks to clearly demarcate the boundary between fantasy and reality. Her more realistic films depicting consensual play show negotiation and explicit consent in the body of the scene. In her more theatrical work, she constructs fictional fantasies involving non-consensual situations or coercion. In these cases she makes the the real-world consent of the performers is clear through contextualising materials such as behind the scenes footage, performer interviews, and links to the performers' social media accounts and blogs. Pandora spoke on this topic at Feminist Porn Conference in Toronto in April 2014 in her talk Establishing Consent: Filming Non-Consent Fantasies in Ethical Porn.
Dreams of Spanking was pioneering among spanking and BDSM sites in offering equal pay for equal work; from the beginning, Pandora paid set rates for different jobs regardless of gender, with all participants being paid a fair wage. No previous spanking or fetish site had paid male and female performers same rates, and many still do not pay men at all. Pandora's ethics as a director are performer-driven and non-exploitative, aiming to respect the full humanity of performers both on set and in marketing; prioritising performer experience over output, and putting the wishes of the performers at the center of her scene choices, business decisions and ethical policy.
The site was also innovative among BDSM sites in shooting for the female erotic gaze, including lingering looks at sexy male bodies, and was strongly rooted in queer politics. The project was sex-positive and body-positive, striving for diversity and inclusivity and aiming to celebrate all shapes, sizes, genders, ages, ethnicities as sexy, including trans and non-binary cast members, and performers with visible and invisible disabilities. Dreams of Spanking prioritised transparency and accessibility, and aimed to reduce shame and stigma surrounding kink and BDSM, particularly fantasies of non-consent, severe impact play or coercion. It promoted good practice in spanking and BDSM, including educational videos on topics such as implement use, scene negotiation and boundary-setting.
Pandora launched Dreams of Spanking in 2011, and the site achieved international recognition before being censored by the UK online porn regulator ATVOD under new laws controlling video on demand. In August 2015 Dreams of Spanking was forced offline, though it returned 9 months later when Pandora won her appeal. Unfortunately the hiatus damaged the site's viability and it has never fully recovered.
Alongside her work on Dreams of Spanking, Pandora has branched out into queer porn and collaborated with feminist porn directors such as Zahra Stardust and Ms Naughty.
An outspoken advocate against censorship and the criminalisation of porn and sex work, Pandora is an active campaigner for labour rights and better working conditions in the adult industries. She organises with the Sex Worker Open University, providing public education and community support for sex workers; the English Collective of Prostitutes, lobbying for sex work law reform; and Backlash UK, a non-profit dedicated to defending freedom of sexual expression. A regular speaker at universities, conferences and in the media, Pandora has appeared on Channel 4 News, Women's Hour, the National Theatre and in numerous newspapers and magazines. Her battle against censorship has been widely covered by national and international press. She is currently campaigning against the UK's Adult Verification Laws
Pandora writes a sex blog on kink, porn and politics, which she has maintained since the start of her porn career in 2006. She also runs a Patreon account which helps pay for her political work.
Awards
'Houseboy' – Cinekink "Bring it!" Award 2016
'Houseboy' – Short Film Competition winner, Berlin Porn Film Festival 2015
'Instructed' – Best BDSM Scene, Feminist Porn Awards, 2015
Publicist of the Year, Sexual Freedom Awards, 2015
Nominations
www.DreamsofSpanking.com, Best Website, Feminist Porn Awards, 2015
www.DreamsofSpanking.com, Best Website, Feminist Porn Awards, 2014
www.DreamsofSpanking.com, Best Website, Feminist Porn Awards, 2013
'The Loose Hem', Feminist Porn Awards, 2013
Festival Screenings
'Please May I Come Mistress', Berlin Porn Film Festival 2016
'Houseboy', Cinekink New York 2016
'Houseboy', Cinema and Embodiment: the Aesthetics of Pornography, University of Kent, 2016
'Houseboy', British Fetish Film Festival 2016
'Houseboy', Wotever World: Queer Experiments 2016
'Instructed', Dirty Movie Club, Melbourne 2015
'Houseboy', Berlin Porn Film Festival 2015
'Instructed', Porn Porn Festival, Brazil 2015
'Instructed', Cinekink New York 2015
'Instructed', British Fetish Film Festival 2015
'Instructed', Berlin Porn Film Festival 2014
'My Inner Little Girl', Cinekink New York 2014
'Marital Discipline', British Fetish Film Festival 2014
'Saddle Sore', Bike Smut: Turning Trixxx 201