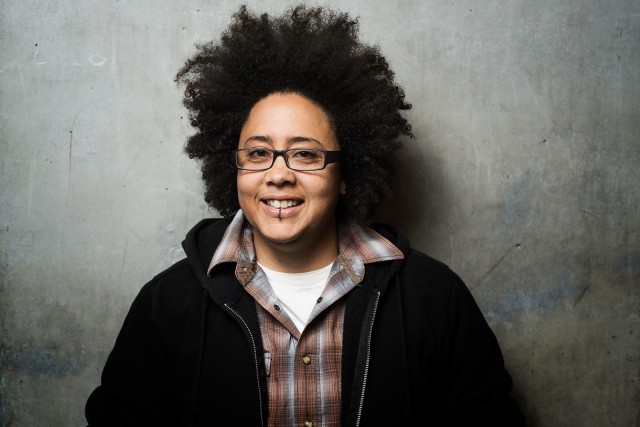 Shine Louise Houston is a San-Francisco-based queer porn film director. Her films have been compared to Hitchcock and she herself has been described as an auteur of adult cinema. Shine's work encompasses story-driven feature films, engaging shorts and documentary-style sex-scenes created for the internet. High production values and good acting are a hallmark, though the main focus is always on depicting queer sex in an honest way. She values ethical and collaborative filmmaking, usually shooting unscripted sex scenes guided by the needs and wishes of the performer. Throughout Shine's career she has worked to bring visibility to queer and trans sexuality within the porn industry. She is considered to be a pioneer of the queer and feminist porn movement.
Bio
Shine Louise Houston is the founding producer and director of Pink & White Productions, the company that runs Crash Pad Series and Pink Label TV. Shine offers a unique vision. Graduating from San Francisco Arts Institute with a Bachelors in Fine Art Film, her works have become the new gold standard of adult cinema. While working at the women-owned adult store Good Vibrations, Shine recognized an underserved demand for an alternative to mainstream pornography, and began to create well-crafted queer made porn. Shine's films have been recognized among the next big wave of women produced porn and have been internationally screened from Amsterdam to New Zealand.
Shine is also an author. Her work appears in the Human Sexuality Textbook (4th Edition), and books such as A Taste for Brown Sugar: Black Women in Pornography, Black Female Sexuality, Freeing Ourselves: Brown Boi Project. Her films feature regularly in the mainstream media; her queer porn site CrashPadSeries.com was most recently featured on HBO.
Shine is currently in post-production for her fifth feature film, SNAPSHOT, an erotic suspense thriller starring queer women of color.
Find out more about Shine's company Pink & White Productions at PinkWhite.biz.
Quotes
"There is power in creating images, and for a woman of color and a queer to take that power… I don't find it exploitative; I think it's necessary."
-Shine Louise Houston
"I believe there's a lot of room and need to create adult content that's real, that's respectful and powerful … I think it's the perfect place to become political. It's a place where money, sex, media, and ethics converge."
-Shine Louise Houston
Filmography
The Crash Pad
Superfreak
The Wild Search
CHAMPION: Love Hurts
SNAPSHOT (post-production)
Crash Pad Series Volume 1
Crash Pad Series Volume 2
Crash Pad Series Volume 3
Crash Pad Series Volume 4
Crash Pad Series Volume 5
Crash Pad Series Volume 6
Crash Pad Series Volume 7
Her Porn 3
Her Porn 4
Her Porn 6
Heavenly Spire Volume 1
Occupied: a queer hardcore romance for the 99%
Bed Party: Eden Alexander and Sebastian Keys
The Boss (Nina Hartley & Sara Vibes)
CrashPad's Guide to Fisting
PUT the NEEDLE on the RECORD
Training Day (Jiz Lee & Nikki Darling)
Projects
CrashCourse (ongoing pornographer education)
Point of Contact (emerging pornographer series)
HeavenlySpire (personal masculine appreciation project)
Websites:
CrashPadSeries.com (queer porn from a lesbian perspective)
PinkWhite.biz
PinkLabel.tv (VOD hub for indie and emerging adult filmmakers)
ShineLouiseHouston.com
SNAPSHOTtheFILM.com
Selected Awards and Honors
Harvey Milk LGBT Democratic Club 2015 "Sylvester Pride In The Arts Award"
Honored with a California Legislature Assembly Certificate of Recognition
Curve Magazine's "Queer Sex Trailblazer"
Feminist Porn Awards "Visionary"
Curve Magazine's Lesbian Sex Culture Curator Award
PorYes Europe's 1st Feminist Porn Awards Honored Filmmaker
International Ms Leather Keynote Speaker
Project Awards & Honors
CrashPadSeries.com – 2016 XBiz Awards "Alternative Site of the Year"
"Audience Winner" CrashPad's Guide to Fisting, La Fete du Slip
"Best Orgasm" 2015 BRIEFS Erotic Short Film Competition CrashPad Romp Comp
"Best Porn Studio" 2014 Best of the Bay, San Francisco BAY GUARDIAN
BED PARTY: Eden Alexander and Sebastian Keys – 2015 XBiz Awards Nominated "Feminist Porn Release of the Year"
CrashPadSeries.com – 2015 XBiz Awards Nominated "Alternative Site of the Year"
CrashPadSeries.com – 2015 AVN Awards Nominated "Specialty Site of the Year"
BED PARTY: Eden Alexander and Sebastian Keys – 2014 Feminist Porn Awards "Best Boygasm"
OCCUPIED: a queer hardcore romance for the 99% – 2014 XBIZ Awards "Feminist Porn Release of the Year"
CrashPadSeries.com – 2014 XBIZ Awards "Specialty Site of the Year"
PinkLabel.tv – 2014 XBIZ Nominated "Specialty Site of the Year"
CrashPadSeries.com – 2014 TrannyAwards Nominated "Best Sex Scene"
CrashPadSeries.com – 2011-2014 AVN Nominated "Best Alternative Site"
CrashPadSeries.com – 2012 Feminist Porn Awards BEST WEBSITE
HeavenlySpire.com – 2011 Feminist Porn Awards BEST WEBSITE
Crash Pad Series Volume 6 – Nominated 2011 Feminist Porn Awards
"Audience Choice Award" 2010 Feminist Porn Awards – Crash Pad Series Volume 5 (Shawn & Mickey Mod)
"Movie of the Year" 2009 Feminist Porn Awards – CHAMPION: Love Hurts
"Best Video Feature" Nomination 2010 AVN Awards – CHAMPION: Love Hurts
"Steamiest Trans Sex Scene" 2000 Feminist Porn Awards – Crash Pad Series Volume 2 (Julie & Michelle Aston)
"Best Dyke Sex Film" 2008 Feminist Porn Awards – Crash Pad Series Volume 1
"Best Trans Sex Scene" 2007 Feminist Porn Awards – The Wild Search (Papi Cox & Will Thrustwell)
"Best Dyke Sex Scene" 2007 Feminist Porn Awards – Superfreak (Lorelei Lee, Princess Donna & Dana Dearmond)
"Best Dyke Sex Scene" 2006 Feminist Porn Awards – The Crash Pad (Jiz Lee & Shawn)
Selected, Outfest 2006, the 26th Annual Gay and Lesbian Film Festival
Selected, 18th Annual Vancouver Queer Film Fest
Selected, Cineffable 2006, Paris, France
Vixens + Visionaries Independent Porn Awards – "Best Dyke Sex Scene" The Crash Pad