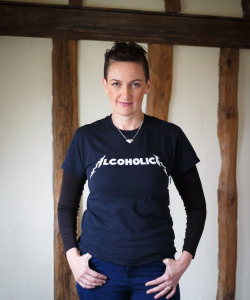 Anna Span was the first British female director of porn. Her films are primarily made up of vignettes with a gonzo-realist style and include heterosexual, lesbian and bi sex and group encounters. There's also use of sex toys, role playing and fantasy. Though the films often make use of the traditional tropes of pornography they also offer stories from a female perspective and focus on female pleasure. Anna says that her films feature a much higher percentage of shots focusing on the male performers.
Bio
In 1997 Anna Span graduated from Central St. Martins college of fine art with a dissertation called 'Towards a New Pornography'. After initial funding problems, she made her first erotic film in 1999 and has since filmed over 250 explicit sex scenes across 11 films. Anna also has an MA in Philosophy from Birkbeck University and is currently studying a PhD in Gender Studies at Sussex University. She has worked in television and is also the author of several books.
In 2009 she launched Women Love Porn, a DVD promoting the work of other female porn directors. The publication of the film was held up because the British censors deemed a female ejaculation scene to be urination. Anna was successful in overturning the ruling, though only for her film; depictions of female ejaculation are still considered "obscene" in the UK.
In 2010 Anna ran for the Liberal Democrats in the UK general election. She has also been outspoken on issues of censorship, feminism and sex education in public debates and speaks frequently on the topic of pornography. She moved to the US in 2014.
You can find out more about Anna and download her films at Anna Span's Diary
Filmography
Eat Me/Keep Me 1999
Pound a Punnet 2003
Uniform Behaviour 2003
Toy With Me 2003
Take This Down 2004
Hoxton Honey 2004
A and O Department 2005
Hand of the Law 2006
Hug a Hoodie 2007
Southwark Sugar 2007
Be My Toy Boy 2009
Awards (selected)
Indie Porn Pioneer, Feminist Porn Awards 2007
Best British Film Brand, ETO Awards 2008
Best Bi Movie, Feminist Porn Awards 2011