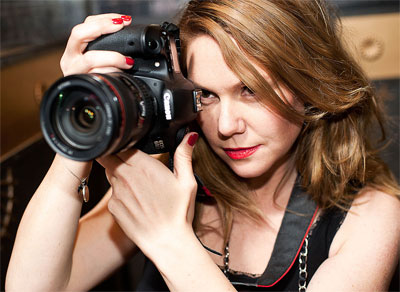 Erika Lust is a Swedish female porn director based in Spain. Her films can best be described as well-produced explorations of (mainly) straight sexuality, shot from a female perspective. Her work is often vignette-based, with a focus on creating atmosphere and context within which the explicit sex scenes can occur. She has said she considers porn to be the "most important discourse on gender and sexuality."
Bio
Erika Lust studied political science, human rights and feminism before creating her first erotic film, The Good Girl, in 2004. She originally released the film online under a Creative Commons license and it was downloaded over 2 million times in the first month. She then went on to include the film in a larger vignette-based feature Five Hot Stories for Her. Recently Erika has focused on XConfessions, a series of short films based on fantasies that fans send in. A compilation of these screened at the Raindance film festival in London in 2015. Her TED talk discussing a need for better porn has been widely viewed.
Erika Lust has also written a number of books, including guides on how to make porn.
You'll find all of Erika's films (plus a variety of other female porn directors) at Lust Cinema.
Or visit her site XConfessions which features her own shorts and guest directors.
Filmography
Five Hot Stories for Her (2007)
Handcuffs (Short) (2009)
Life Love Lust (2010)
Cabaret Desire (2011)
Room 33 (Short) (2011)
XConfessions Vol 1- (ongoing)
Awards (selected)
Five Hot Stories for Her, Movie of the Year, Feminist Porn Awards 2008
Five Hot Stories for Her, Best Adult Film For Women, Venus Berlin 2008
Handcuffs, Sexiest Short, Feminist Porn Awards 2010
Life, Love, Lust, Movie of the Year, Feminist Porn Awards 2011
Cabaret Desire, Movie of the Year, Feminist Porn Awards 2012
Cabaret Desire, Best Narrative Feature, Cinekink 2012
Female-Produced Site of the Year, XBiz Awards, 2019